Constructing an H-Town Takeover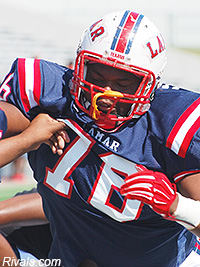 In the 1980's the University of Miami started a new trend in college football not only recruiting, but keeping south Florida's top talent from in and around the Miami Metro area at home playing for what became predominantly known as "The U" in the 80's and early 90's.
New Houston head coach Tom Herman and his staff want to build that same tradition in Houston, keeping the Houston area's top players right here in Houston. Herman has said that he wants to 'build a fence' around the Houston area and keep the area's top players in Houston.
The Cougars launched the your city is calling campaign aiming to attract the attention of all of Houston's top high school talent to open their eyes to the possibility of staying close to home and playing for their home town team.
Could Houston be on the verge of something special with "The H"? It's a term growing increasingly popular with local prospects from around the Houston area and is creating a lot of buzz in the recruiting circles around Harris County.
While the Houston coaching staff has been hard at work from day one recruiting the entire Houston area trying to sway the area's top prospects to stay close to home, they may have made their biggest pitch yet Wednesday night on a night dubbed as the 'H-Town Takeover'.
Several of Houston's top prospects came in for an unofficial visit and were shown a presentation similar to the ESPN 30for30 documentary on 'The U' but with a Houston twist. The coaching staff was trying to show the recruits that they could be a part of something similar to the success that Miami had for years by keeping players close to home.
"The presentation they put on was very neat," Katy's Paddy Fisher told CougarsDen.com "Basically what they're trying to do is do what the University of Miami did for years in getting everyone to stay at home and making a powerful program by getting all the top recruits in Houston to stay at home."
Fisher enjoyed the opportunity to catch up with some of his gridiron friends during the visit to Houston.
"The Environment was great," the three-star linebacker said. "We got to meet up and talk with a bunch of other kids from a lot of the schools that we play against like Manvel and Hightower, it was good being able to catch up with them and talk with them off the field as opposed to on the field"
"The video and the presentation they put on got everyone pumped up," Fisher added. "It was a really good video and really got everyone going."
Fisher's teammate and Rivals four-star safety Collin Wilder was on hand as well and is one of several prospects that thinks Herman's idea of keeping Houston's top talent in Houston is a good idea.
"I think it's a fantastic idea," Wilder said. "I think they're doing all the right things to build the program the way that they want it to go. I think everything they're doing is right. They're really making all of these four and five star recruits really think about taking over Houston."
Wilder is one of the highest rated prospects in the Houston area and is currently committed to Texas Tech, but is receptive to the idea of staying close to home if a large group of prospects is willing to come together and pull the trigger as a group.
"I don't know about each individual situation but if we're all serious about doing this then we'll have to talk and see who all is on board and who's iffy," Wilder said. "We're still trying to pan everything out and see where everyone is at."
"I think if one or two guys do it, everyone else will," Wilder said of the possibility of a large group committing to the H-town takeover. "My situation is complicated right now being committed to Texas Tech and that's why I haven't really promoted anything yet. But I feel like if everyone buys into this we could put together a really good team. It would be like a Houston area all-star team."
Another player on hand with his teammates was Hightower defensive tackle Darius Anderson who is ranked as the 94th best prospect in the state of Texas by Rivals.com.
"It was real cool and a lot of fun," said Anderson. "I grew up with a lot of the guys that were there, it was pretty cool for us all to be there together. It was very creative how they put together the presentation with the documentary of the U."
Count Anderson in as another prospect that thinks Herman's idea to take over Houston is a good one.
"It's pretty smart first of all," the three-star defensive tackle said. "It's pretty cool to think that Houston has just as much talent or more to what Miami had back then. If we all came together on one team it would be something serious."
Houston (TX) Lamar standout offensive lineman Dixie Wooten has been high on Houston for a while and feels this could be a great situation for the recruits to buy into.
"It was kind of crazy because I didn't even really know there was that much talent in Houston," Wooten said. "They were just telling us how if we all stayed how dominant we could be. I think it would be a great idea to keep all of us in Houston. It's a great scenario for everyone; we'll all be close to home and in a great situation."
Wooten admits there has already been talk amongst recruits about the possibility of brings this together.
"A lot of us have talked about it," he said. "We can make Houston our own program."
Wooten could be one of the focal points that could get things rolling as he's already very high on the Cougars and expects to make a decision before the start of his senior year, which could go Houston's way.
"Houston is most definitely my number one team right now," Wooten said.
If Herman's construction of the 'H-town Takeover' comes to fruition, the University of Houston could be on the verge of doing something special in the city of Houston, maybe not just for the class of 2016, but for years to come.
The University of Houston has proven to be a serious contender for all of the top talent in and around the Houston area and will definitely be worth keeping an eye on as the 2016 recruiting cycle heats up.
Will Tom Herman and his staff be able to fully construct his version of the H-town takeover? Time will tell, but it sure does seem as though a lot of the local prospects are already starting to buy in to the possibility of creating their own legacy right at home in the city of Houston.